Bhadraj Temple Treak is a prepossessing place situated on the western region of Mussorie, Bhadraj temple's height from sea level is 7,500 feet which gives the panoramic 360 view of the Himalayas in the north, Doon valley in the south and barrage in the west. Bhadraj Temple is dedicated to devoted to Bhadraj devta (lord Bal Bhadra) also known as Balram, the brother of Sri Krishna. Bhadraj Temple is a very peaceful and calm plan which is around 15 km from Mussoori. Every year, from 15th to 17th of August, temple conducts a fair that brings a large number of devotees which is around 2,000 to take blessings from Bhadraj Devta.
Bhadraj Temple History
There is a Story of Bhadraj temple that after the Mahabharat war, Bhadraj Devta (Balram) started his journey for penance and stop by a fascinating place in Binhar also known as the (Milkman's village). He stayed here for some time to medicate and taught war tactics to the shepherds. Before starting his journey to Badrinath he promised the people of Banhar that he'll return in a form of stone to take care and give blessings to them. After a few years, a local inhabitant Nandu Mehra found the statue of Shree Balram and places it in a high altitude spot where temple was built.
Bhadraj Temple Trek Distance
Distance of Bhadraj temple from Dehradhun is 24.8 km, from Rishikesh it's 85.6 and from Mussoorie it's just 12.8km which makes this place one of the best places to visit near Dehradhun.  From Haridwar It's 76.1km which makes Bhadraj Temple Trek a must do trek for people nearby to enjoy their weekend.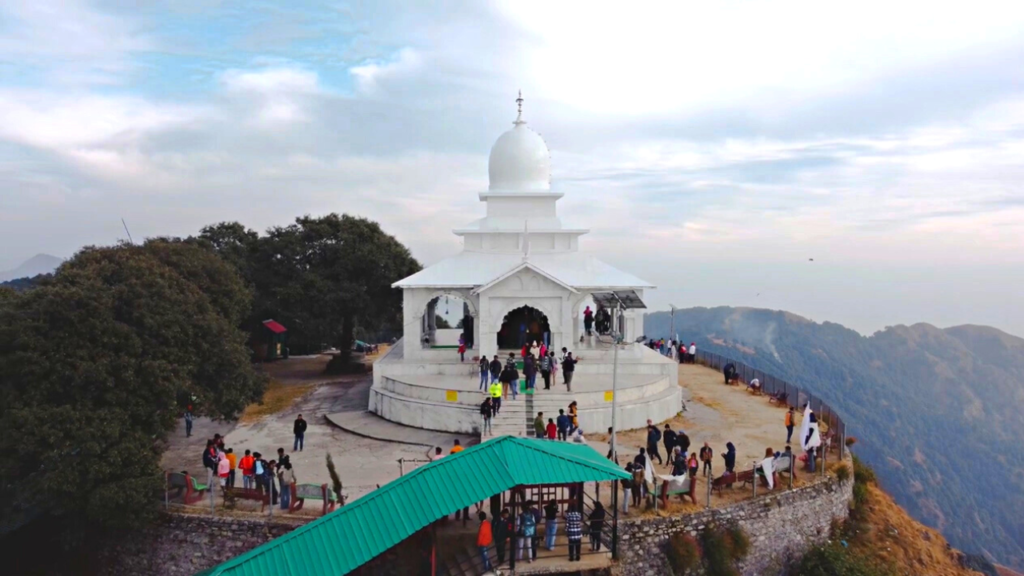 Bhadraj Temple Trek
The Bhadraj Temple Trek is a Moderate level trek which starts from Dudhli villiage. It's one of the best weekend treks as Bhadraj Temple Trek Distance can be completed in a day or 2. But if you want to enjoy the trek, I would suggest you to camp overnight and enjoy the Bhadraj Temple weather.
The trails consist of beautifully forested areas in the northern slopes and barren grasslands on the southern slopes
Day 1: Clouds end – Dudhli Village
You can start your trek from Clouds End towards Dudhli village which is also known as milkman's village. It will take 2 to 3 hours to reach Dudhli village as it's just 3km to 4km. The complete trail passes through grassy patches where you can sit and enjoy the beautiful views.
Day 2: Dudhli village – Bhadraj temple – Clouds end
After spending a great time at Dudhli village get up early for your final push. Bhadraj temple is around 8km from milkman's village and the trail is filled with lush green meadows and oak trees. After 3 hours of trek you will reach the Bhadraj temple peak (2,200m) which is also one of the highest mountain peaks in Mussoorie region. Some say the best time to do Bhadraj Temple Trek is post monsoon. But if you love snow, I would suggest to do Bhadraj temple trek in winters as it receives good amount of snow.